Welcome to the next exciting review on products provided to us by our friends at
Mountain Bikes Direct
. We've teamed up with one of Australia's best online mountain bike stores to bring you in depth reviews on the latest and most intriguing parts and accessories you can purchase for your bike.
The values shared by the staff at Rotorburn and Mountain Bikes Direct are the same; we have a huge passion for mountain biking! It's our pleasure to be in a great position to test, review and share our in depth details on some great products available from Mountain Bikes Direct.
In this review, we thought it was worthwhile to test some sweet new shoes and pair it with some rad flat pedals. I've also chucked a video review in after some great feedback from the Rotorburn members.
Item:
Afton Keegan flat pedal shoe
Purchased From:
Mountain Bikes Direct (Click
here
for the page)
Purchase Price (approx): $124.95 plus postage
Usage:
Mountain biking primarily but a great casual shoe as well
Product outline:
The Afton Keegan shoe is new to me. We've all seemingly fallen in love with the 510 offerings of years gone by and thankfully they have stood the test of time for me. That's what made this review so appealing to me; the chance to try something totally new. At this stage I've had the shoes for a few months and plan to add some long term info to the review but for now, this is what we've got.
The shoes have that skate shoe look that doubles as a cool looking casual shoe as well. They come in two colours; the blue/black and the one's I have in this review; the grey/red. They certainly aren't a floppy thin piece of junk though, from the second you pull them on you know straight up that they are made to perform with a very firm toe and heal coupled with a rigid sole to avoid that dreaded shoe flex resulting in sore feet.
The fit is great, I'm a US 14 shoe but got these guys in a US 13 and typically with a new shoe, they felt a little snug at first but your foot finds it's way and they are a great fit. The area of the shoe just below your ankle is pretty well cushioned and keeps your ankle from hitting your crank; thats a big time win for me as that has been a common issue I've had with flat pedal shoes over the years. I make note in the video review that I hope this cushioning stays puffed up and l stands the test of time.
So the shoe is comfortable, the sizing is spot on and it looks good but does it grip your damn pedal? Yep, very much yes! The sole of the shoe is a good feeling 60A rubber compound where the grip of the shoe comes from the triangle dents in the sole, not protruding rubber blocks that is common on other shoes. The pins of my pedals locate themselves in these dents and binds to the rubber once located. It's bloody great actually, almost feels like a bunch of small cleats and your foot feels like it's touching more of the pedal as it's seemingly buried in the shoe.
Summary:
Those who know me know I ride clips, have done for 209 years. Why? Well, I want my feet to be in the same place when I ride and it keeps my ankles from hitting my swing arm plus I can steer my bike with my feet. I've ridden flats for certain types of riding like pump tracks, dirt jumps, "just riding along" but call myself a clips guy. I have a mate who travels with flats and clips and mixes it up on different trails primarily doing enduro style riding and that is so appealing to me, thats why I went for this review and I have no regrets, still a clips guy but very comfortable riding downhill and enduro on flats.
The shoes are comfortable, they have great grip on your pedal, they breath well and I was never hot in the shoes and they feel like they are made entirely for riding your bike. They aren't flimsy and thin and lets face it, that stuff speaks so loudly when you're looking at shoes and you see these guys for half the price of some other brands. Personally, I don't have any intention of sourcing any other brand of flat pedal shoe.
Pros -
Cheap to buy, great fit, excellent performance on the trails, great to know they are constructed mountain bike shoes.
Cons -
Tight to pull on initially getting past the ankle cushioning, the grey/red shoes have lighter colours which may look ordinary after some use, a little slippery on wet smooth surfaces like the tiles at the pub.
A flat pedal shoe review is useless without testing it on a recent model flat pedal yeah? Check out the Joystick Emulator!
Item:
Joystick Emulator flat pedals
Purchased From:
Mountain Bikes Direct (Click
here
for the page)
Purchase Price (approx):
$169.95 plus postage
Usage:
Mountain biking
Product outline:
The Joystick Emulator flat pedal is an alloy pedal with a cromoly axle. You can chuck these pedals on any bike you have and you're sorted. A pedal can't be packed with features? Think again, these guys have tons of adjustable pins, are a light yet super impact resistant CNC machined alloy and a serviceable cartridge bearing on the cromoly axle.
Fitting:
The first thing that hit me was the lack of spacing to tighten the pedals with a 15mm spanner, you can't. You tighten the pedal from the backside of the crank with your allen keys. The thread is the common 9/16" but always keep in mind your tightening direction is different on your drive and non drive side cranks.
Summary:
First up, I took a few hits on these things that I cringed at, I thought I may have wrecked a pin or put a decent dent in the material but nope, nothing other than a few scrapes of rock debris that buffed the finish a little, thats a good start! The platform is a pretty big area ad your entire shoe should cover it nicely. The positioning of the pins is clever enough that if you are a bit buck wild and end up with just a part of your foot on then you're at least in touch with something pretty solid on the pedal. I've used some pedals in the past where the bulky axle chamber is too much and paired with a crap pair of shoes means you feel like you're bending your shoe to cover it. These pedals are almost the opposite with your foot binding to the pins first then settling into place with your contact totally surrounding the outside of your forefoot.
I have a gripe though. The pedals do have a large surface area but I miss the half an inch that some pedals stick out to house the area on the axle where you can use a spanner to tighten them. On these pedals there is no gap between the crank and pedal and I often find that my foot is only two thirds on the pedal as I need to keep my heel from touching the swing arm on my bike. That is one of the reasons I fancied giving clips a go all those years ago. It is something I adjusted to though and found a sweet spot on some rough trails where I adjusted my toe angle so I was almost pigeon toed on the pedals to make sure I wasn't hitting the frame. Admittedly, that was probably all in my mind more than in practice and I just got over it and felt at home on them.
The pins aren't going to destroy your legs as much as others but they do their job perfectly. I rode them in mud, in dust and in some sandstone and didn't have any build up in the pins or any other part of the pedal. They don't clog up and stay tidy.
Pros -
Great sized face, tons of pins in the right spot, they look great and are finished with a professional CNC finish.
Cons -
The lack of spanner fitment may be an issue and may stop you getting on a crank holder trailer, you'll be doping well to get a spanner or socket on the axle bolt which may mean some specific tools, not a big deal but they only come in black.
All in all, I'm chuffed. The shoes are great and I hope they last as long as dearer shoes on the market. The pedals reminded me of some of the demons of using flat pedals but once I had my head around it, they were flawless and bring the fun out in the right situation.
I hope you enjoy the small video review paired with the written text and photos.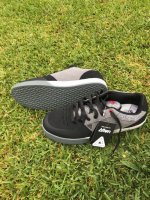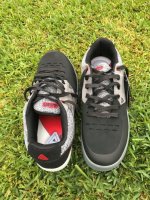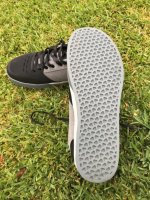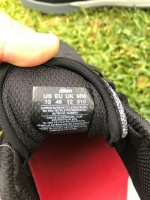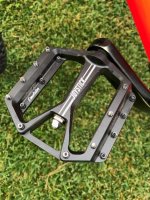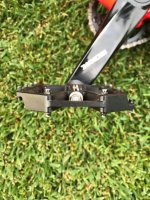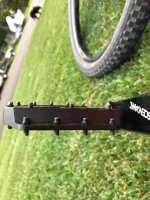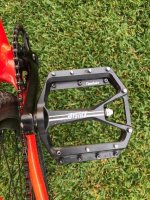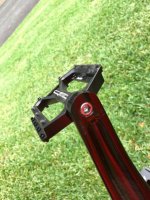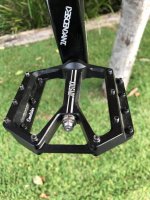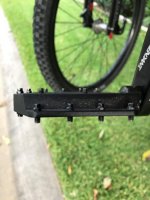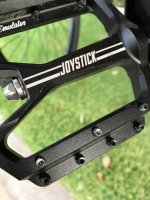 Last edited: