I'm doing a quick service on my sons KS E10 external dropper as it's pretty slow to return. I bought it used and have found the little plastic pins that sit next to the brass ones are missing.
The pins measure about 1.9mm OD with my shitty plastic calipers. I happen to have some ABS plastic rod about 1.6mm with the same calipers.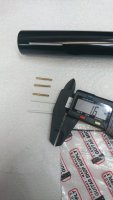 I was thinking of cutting some pieces of that to replace the missing pieces, or should I just put it back together as is?