Welcome to the next review! Travelling around the world riding bikes has allowed me to gauge some fairly extensive intel on how people transport bikes. We're very lucky in Australia to have locally engineered and manufactured bike racks that suit the places we take our bikes and I can safely say that we've got some of the best racks in the world. I've recently purchased the five bike rack from Shingleback Off Road, read on for the in depth review.
Item: Shingleback Off Road five bike rack
Purchased From: Shingleback Off Road (
www.shinglebackoffroad.com
)
Purchase Price (approx): Five bike rack is $1,100 including GST. 3,4,5 and 6 bike rack is available starting at $990.
Usage: Transporting any kind of mountain bike
Product outline: The Shingleback Off Road five bike rack is a towbar mounted rack that holds your bikes upright behind your vehicle. It removes the need for a box trailer and leaves the open storage space of your vehicle vacant for anything else you need to carry.
Fitting: Easy! The rack is delivered in a flat pack with not much assembly needed. You only need to bolt the top wheel hoop section to the upright arm then to the slide in towbar hitch. The lower wheel locating bar is best fitted once you've slid the rack into your towbar so you can then place it in the correct spot aligned to the bikes you're carrying.
The rack does tilt via removing one of the bolts and / or the removable pin to allow access to the rear of your vehicle. Best bet is to take the bikes off before tilting it though.
There are three angles that you can have the rack at depending on what suits your vehicle, thats a choice you'll make once you start using it.
Shingleback include a nifty small fitting which stops the removable hitch bouncing around in the towbar. It's a U bolt with a locating plate that is tightened around the receiver to locate and firm the movement of the rack, it's such a simple method and so effective!
On the trail / road: Some will choose to leave the rack on the car but more often than not, you'll take it off and store it. Shingleback offer a nifty trolley that enables you to wheel the rack into your garage and its sturdy enough that you can store your bikes on the rack! Not many racks offer that sort of functionality and it is a big bonus. The rack itself with the slide in tow hitch weighs around 35kg and is a little cumbersome to move around by yourself, I recommend the trolley!
Loading the bikes is so quick! It's less than a minute to get five bikes on! A little tip I'll offer is to place the bikes in an order that will avoid brake levers touching the next bike's top tube. You can also keep the pedal placement in mind. You have two solid bungy cords that loop effortlessly around the wheel and tyre to stop it moving; ingenious!
Driving around with the rack is pretty comfortable. You are supplied with a number plate mount that you affix to the tyre of your bikes to hold your bike rack plate in a visible position. I've shown this rack and the number plate mount to a Highway patrol Policeman in NSW and he ticked the box, said it's just fine so remember to chuck it on!
Driving on the highway, on the smooth sealed roads and smooth dirt roads see's barely any noticeable movement in the rack except for the obvious extra bob you'll feel having the extra weight out the back. When you hit some rougher roads you will feel some more movement and feel some sideways movement from the rack loaded with bikes bouncing around. Fear not! You've got a very well engineered sturdy steel construction keeping everything right where it should be and movement between materials is expected, steel has an element of flex that happens in any kind of fabricating. My advice is to prolong the life of your gear by treating it nicely and not treating the humps in the road like a rally car jump, just cruise on the rough stuff.
Pros – Your bike does not touch the bike next to it, the only point of contact your bike makes to the rack is the tyres, it is amazingly fast to load and unload your bike, it's a damn fine design and very well manufactured, it doubles as a storage rack in your home, tilts oh so easily to enable vehicle access.
Cons – It's built to be sturdy and is heavier than different styles of racks, can be tricky to move by yourself with support of a trolley.
Summary: I'm bloody fussy when it comes to bike racks. I don't want my $1,000 bike getting touched by another bike and I certainly don't want my $10,000 bike getting beaten up by someone else's bike during transport. I'm that guy that stands back at a race and waits for my bike to be put on the better trailer and not on a rubbish crank holder or some heap of shit that wrecks my paint work. I've built racks of my own over the years and am known for making stuff that looks after everyone's bikes so when the Shingleback appeared in my stable, some of my mates were in awe of the workmanship and asked if I'd gotten back on the tools and whacked something new together. I take that as a compliment that guys know I want their bikes protected during shuttles and transport and with that in mind; it is an amazing credit to Andrew from Shingleback who got this rack on the scene. It is such a damn good rack and so appropriate for anyone wanting to haul a car load or people and bikes into some pretty gnarly spots.
Around North America, this style of rack is known as a North Shore rack. Over there you either chuck your five bikes over the tailgate or you have them on an upright right similar to the Shingleback. I had many a chat to guys with Canadian branded racks over there and didn't let on that I had intentions of getting something similar back home but was on the fence with it as some of the racks over the equator were pretty flimsy and some even said they had a pretty short lifespan. I watched one guy remove his rack and lay it on the ground so he could get into the back of his car and I thought it must have been pretty light which to me translates into being under built. Everyone operates on a budget and has different methods for how they see to do things but my minimum is to look after whatever I am carrying and not need to replace something that is under built. I did my research for a while and the Shingleback ticked every box I had on my list. Making the choice to get one was a no brainer. Its well engineered, its assembled with solid material right here in Australia in north east Victoria and is only a mere few days away from you once you order it from the Shingleback website (
www.shinglebackoffroad.com
)
I'm also pretty fussy on craftsmanship and I pay attention to good welding and how well a guy reads a tape measure. All the pieces used on this rack are cut square, edges tidied up with a grinder and everything is finished off square and true; that shows care has been taken to ensure you get the product that the guy building it wants to use himself.
Aside from the quality of the build, how well it works during transit and how easy it is to load and unload, there isn't much more that can be said about a bike rack. In fact, saying less is better in my books. This thing kicks arse and everyone in the car park looks at it not because it's a bit of an unknown thing in Australia but because it's such a great way to transport and store your bikes. The basics of a bike rack should be that it'll be simple to get on your car, your bikes don't touch each other, you can fit a XL size down to a kid's size and it won't shit itself and fall apart.
I won't lie, I've punished this rack on some crap dirt roads that I don't enjoy driving even without a rack on the back but its peace of mind knowing the Shingleback rack will be bolted on the back of my car with mine and four other bikes still sitting there untouched. Having this rack on my ute has enabled me to pack more of the things I'd like to take travelling as it opens up the space of the tub on my dual cab ute with no compromise. Honestly, you can't do wrong with this rack and it does set the benchmark for quality craftsmanship and execution of a fantastic idea on how to travel with your bikes. I've seen so many plastic racks and homemade jobs fall apart and the consequence is you've not only lost your cheap rack but you're now up for a repair bill to fix everything on your $10,000 bike that got smashed into oblivion bouncing down the road.
Don't buy ten bike racks over the next ten years. Buy one Shingleback rack to last the test of time and spend the money you save on bike upgrades.
Got Facebook? Like Heavy Metal Mountain Biking to get in on the extra content
www.facebook.com/heavymetalmountainbiking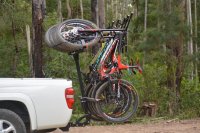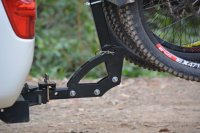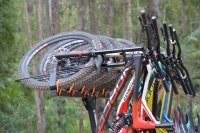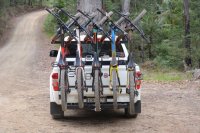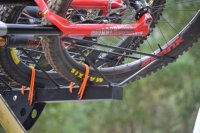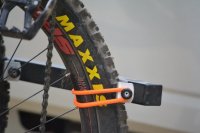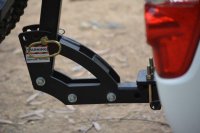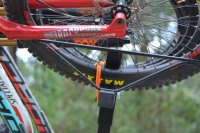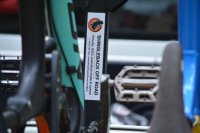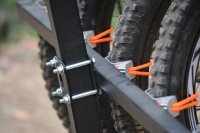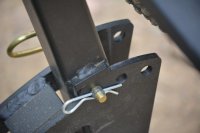 Last edited: