Hey guys, i bought this on-one a while ago and have just been riding it and not really caring that much about it's appearance. But now i can't handle it, the frame is just too ugly in raw so I'm going white, a lot of white. The theme will be white, black and red.
Recently I bought a deity stem and set of bars off Nicho (great seller) and stuck them on my gimp, seen as I have gone this far I thought I may as well just upgrade the whole thing.
Spec list, new and upgraded parts
underlined
, notes/previous parts in
(italics)
:
Frame
- On One Gimp
(getting it painted white)
Forks
-
2008 RockShox Argyle 318
(used to have gold label 2's)
Handlebars
-
Deity twenty14
(used to have NS districts)
Stem
-
Deity
(used to have Fit down low stem)
Headset
- FSA DH Pig
Grips
- WeThePeople
Saddle
-
Colony Slim Pivotal
(used to have kink)
Seatpost
- Kink pivotal
(getting it painted white)
Rear brake
-
Avid Elixir R
(used to have Diatech Anchor)
Cranks
-
Deity Vendetta
(used to have Strictly bitch bmx cranks)
Sprocket
- Snafu 36t
Chain
- KMC Kool
Pedals
-
Odyssey Plastic PC pedals
(used to have Tioga surefoot MX Pro Pedals, only 50grams heavier then plastics up for sale if anyone wants them)
Front hub
- dice roulett 20mm
Rear hub
- Surly dual sealed bearing SS
Front rim
- 24" Sun MTX
Rear rim
- 24" Sun MTX
Tyres
- Maxxis Holy Roller
what it looks like now, scroll to the bottom to see more: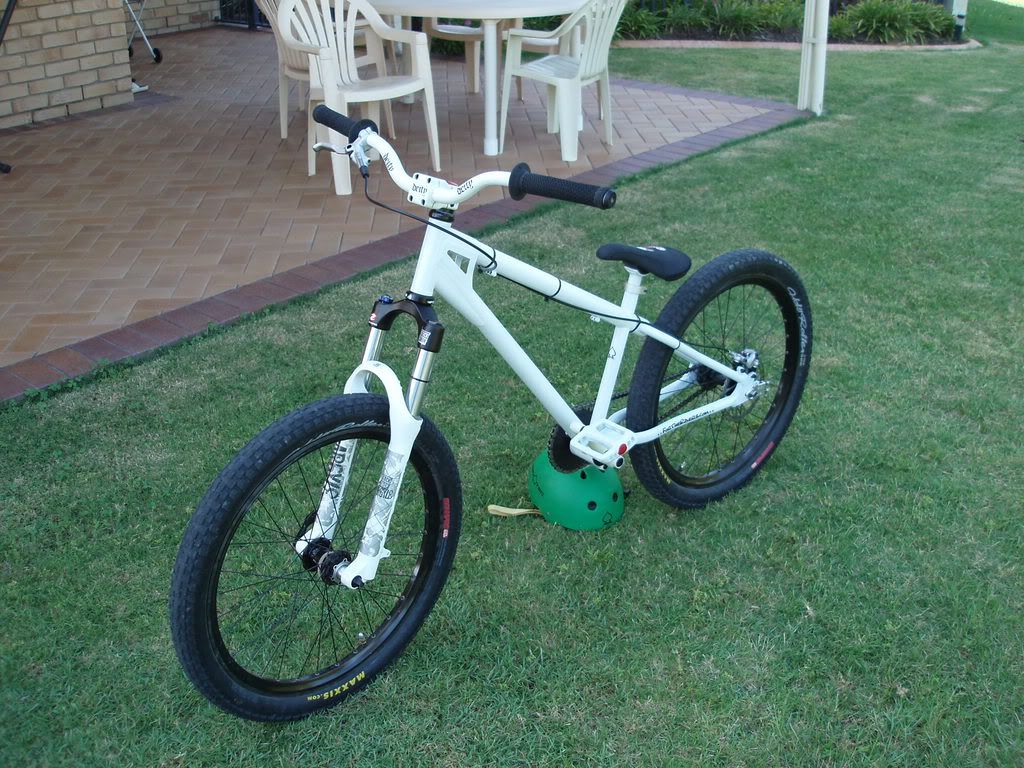 Here are the pics of it when i first got it:
Then with the deity bars and stem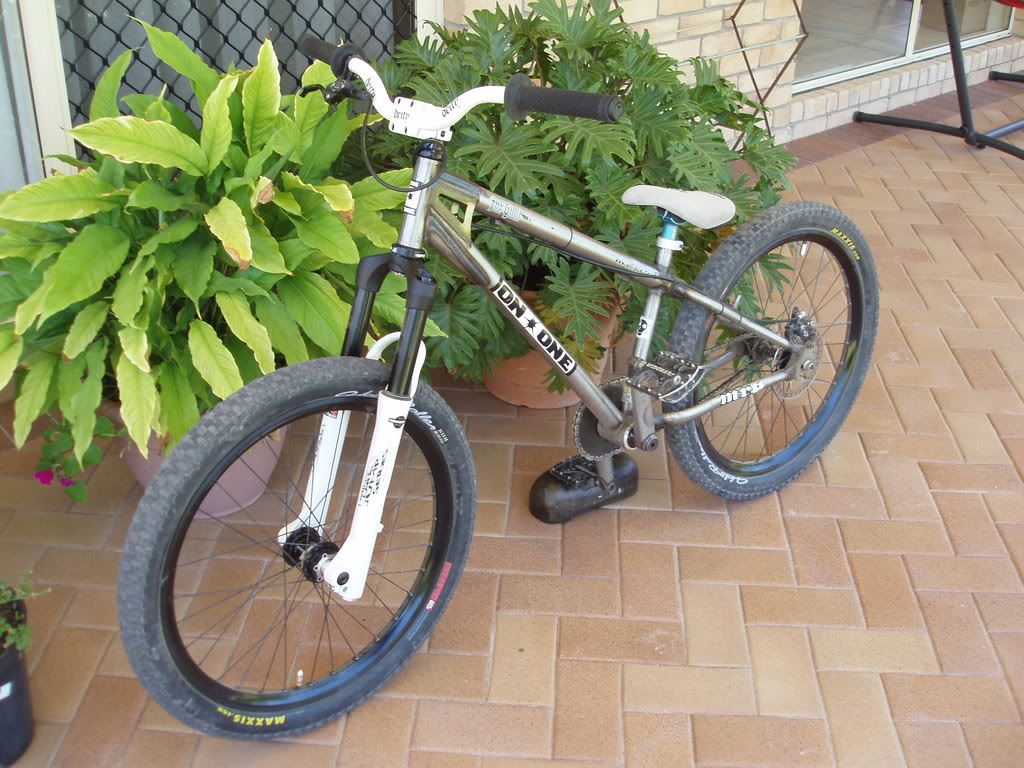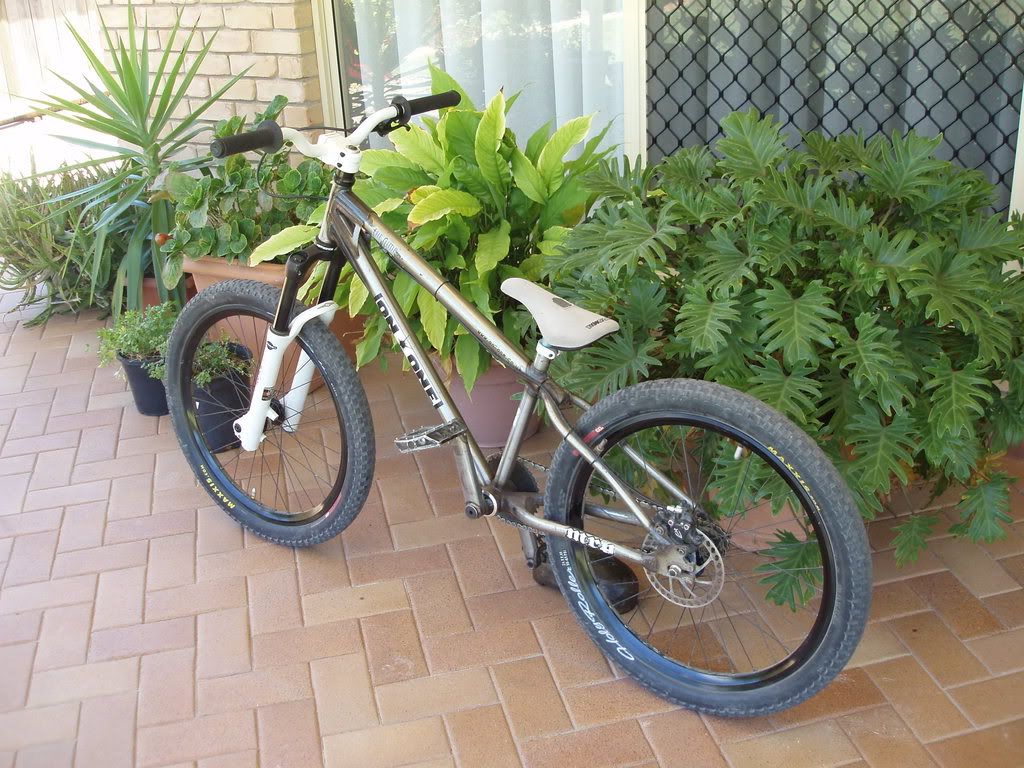 And coming soon, the whole thing built up when i get it back from the painters.
but for now a pic of my stash of new goods: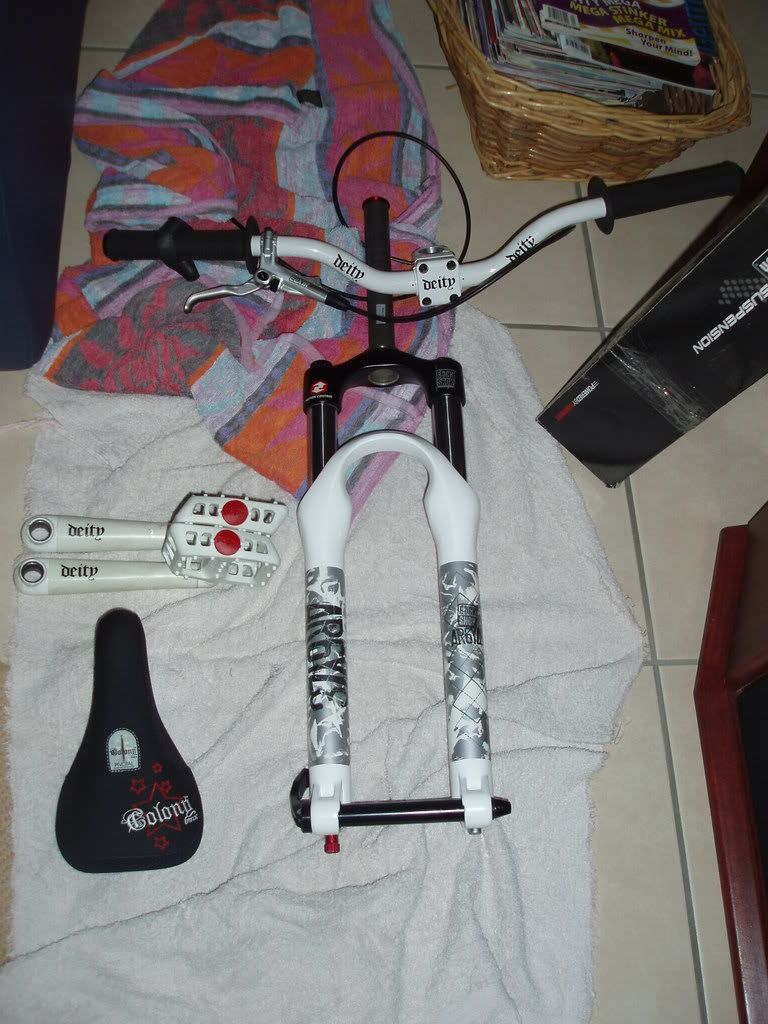 ​
Please reply with your thoughts and comments, or if you would suggest a different part / colour scheme.
Last edited: