During the tenure of testing and reviewing products over the years, I've been really lucky to work with some really cool people and share some amazing products from some big names in the mountain bike world through to some young ideas that have become a reality. This one is especially cool for me as I know the Gentleman behind these great ideas, I completely understand his drive to create innovative designs and can guarantee this stuff has been put to the test on some renowned trails worldwide. A long background in downhill riding across Australia and the lush landscapes of Canada, Mark has created some products born of necessity more than just a desire to make something flash. Designing the products himself and seeing this come to life must be so rewarding. I'm really excited to introduce you to LoamLab Components!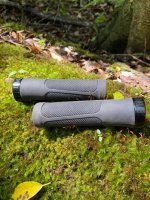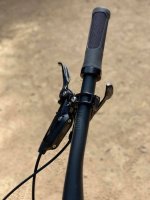 The LoamLab Grip is a lock on rubber grip unlike any thin rubber grip I've used. Truth be told, I've avoided thin grips for a long time as I've found them too harsh on my palms, particularly the nerves closer to my wrist. Granted, a thin rubber grip is priced accordingly and is just that; a thin piece of rubber. The LoamLab Grip though? It's the exact thing fans of thin grips need that can now offer comfort as another plus. How though? There's parts of the inner core of the grip removed and the rubber can absorb more in those areas. Cool huh! I was surprised just how effective it is and had zero hand fatigue in the month I've run them on two bikes. Off the shelf, you can feel the softened areas of the grip easily. When you slide it onto your bars, it is firmer of course but still soft enough that it works remarkably well. I also run gloves but did a few laps without gloves. Again, super impressed with how this practical idea is executed. I'm not used to riding without gloves but didn't have any worries with hands slipping. As a reference for myself, I put a set of thick grips on that I usually run and felt more through the bars than I did with the LoamLab Grips.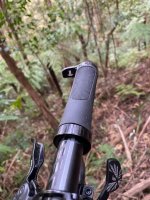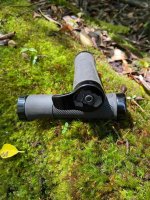 I've tested a few innovative products of late that have been such a simple idea that I'm surprised hasn't been done earlier. Enter the LoamLab Counterpunch! The same amazing grip that we've just discussed but added protection in the form of an alloy endcap with a short curved piece that curls around the end of the grip covering your pinky finger. Nope, it's not a bar-end (remember the early 1990's?), it's designed to protect your finger in an impact. And yeah, I've tested it good and proper with a couple of crashes where I still had a hand on the grips. I have had a couple of incidents in the past where I've really hurt my fingers either tucking the front wheel and smashing into the ground or brushing a tree or rock face. Looking back on those times, I reckon I would have avoided the pain and subsequent injury time if I was running the Counterpunch. It's such a great idea, it's so effective and can save you some anguish. Handguards are becoming a thing in our world, the Counterpunch works so well, is so easy to fit and looks pretty cool. As for the real world testing, I lost the front in a tight steep turn and fell on the bike onto my right side. The end of the Counterpunch was marked, my brake lever moved but my hand was fine. That's a big box ticked! I ride some tight trails winding through trees thicker than a human and had two occasions where I brushed the tree enough to bump me off line. There's good marks on the Counterpunch and no issues on my hands. None of the crashes we have are intentional but if you can add some protection to your bike then that's almost unheard of, what a brilliant product.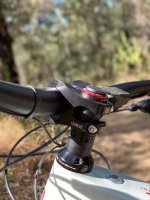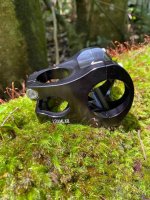 Also available in this exciting range is the LoamLab stem. Beautifully finished in several colour options, the stem suits 35mm bars on a 1" 1/8 steerer. Zero rise with a 40mm stack; this is a really versatile stem to park you in the right position offering either a 32mm or 40mm length. Let's call it a no fuss solid stem that is machined and finished almost exquisitely with the LoamLab name and logo etched subtly in the right spots. And stainless bolts? Yes!
LoamLab is young and new and interesting. I absolutely love seeing this kind of thing kick off with impressive and innovative ideas. We owe it to guys like this who dare to execute an idea and follow it through, thank you for offering us your ideas! I really hope to see this grow into a bigger range with more products. During the month that I've been running the LoamLab range, some great minds got together and made it happen that LoamLab is now available in Australia from our pals at MTB Direct! This gear deserves your attention, the Counterpunch Grips are incredible and are at home on any bike you own. Also check out the LoamLab website and social media pages for some cool content riding trails in beautiful British Columbia in Canada.