We've teamed up with one of Australia's best online mountain bike stores; Mountain Bikes Direct to bring you in depth reviews on the latest and most intriguing parts and accessories you can purchase for your bike.
The values shared by the staff at Rotorburn and Mountain Bikes Direct are the same; we have a huge passion for mountain biking! It's our pleasure to be in a great position to test, review and share our in depth details on some great products available from Mountain Bikes Direct.
Item: Dert Tailgate pad 2.0
Purchased From: Mountain Bikes Direct (Click
here
for the product page)
Purchase Price (approx): $98.95
Usage: Any bike transport
Product outline: A tailgate pad enables you to carry four bikes in the tub or tray of your ute without the hassle of needing to use some ghetto padding or beach towels to stop the bike being damaged or the tailgate being damaged. In such a simple way, you can easily clip the padded tailgate pad to your tailgate, sit your bikes in place and strap then down then head off bound for the trails.
Fitting: It's oh so easy! The pad is held in place on your tailgate by four straps that bind together on the inside of your tray. You lay the tailgate pad over the top of the tailgate, open it enough to thread the straps under the tailgate and into the tray then bind the straps in place once you've got it in the right spot. You can pull the straps tighter for a snug fit. Job done!
Pros – The 2.0 version of the Dert tailgate mate has extra straps, has much thicker foam padding and a very nice fluffy velvet inner skin to protect your tailgate. It's very light and easy to store. The panel that flips open to expose your tailgate handle is a good size.
Cons – It has straps to hold five bikes in place but it'd be a tight squeeze. I suggest you put a non marking material under the strap where it tightens on the bottom edge of the tailgate to stop any chance of marking.
Summary: Tailgate pads are an oh so simple way of protecting your bike and your car from any damage when transporting your gear around but to me, the user is still the defining factor in how well your gear is protected. The Dert tailgate pad simplifies the process but I do recommend some extra attention that will make the pad work even better. The pad itself is a great build with a robust material on the outside that handles the weather and cleans up nicely after a dusty or muddy hustle on the bikes. The underside of the pad is a nice feeling velvet that removes any chance of marking your tailgate and that is super crucial to me. I'm not interested in spending money on repairing tailgate damage because of some badly built tailgate pad. Having the extra thick foam inside the pad really adds to the quality feel of the pad and peace of mind knowing your down tube isn't getting hammered by the top edge of your tailgate.
The pad is a little over 1300mm wide and has Velcro straps to hold five bikes. This would be a tight fit if the bikes were sitting loosely so I suggest some sort of device to hold the rear wheel of your bikes in place in the back of your ute so the bikes don't play dodgem cars with each other and scratch your freshly cleaned swing arm. Using the Velcro straps is a must too, it doesn't stop your bike from leaning over just a little but it does keep it in place. Having the bike firmly secured will not only stop it from rolling around but it'll stop you from getting the dreaded rub marks on your parts from transport. Yuck! No one wants their bike marked by a shuttle!
Sometimes hanging a bike over your tailgate will block your number plate so think about either getting a bike rack plate or spacing your load so the number plate is visible, that'll keep John E Law off your back.
I've owned a few tailgate pads and have been on shuttles with other pads and while they all do the same thing, some just do it better. The Dert tailgate pad 2.0 feels a lot thicker than most and has the foam in the right place under your down tube and where your wheel or forks will rest on the tailgate and doesn't feel like a foam that will go flat and become useless.
All of this info is relevant for one big reason; the elephant in the room if you will; it's bloody cheap to buy! It's under $100 on the Mountain Bikes Direct website and if you're doing any sort of comparing to other brands, it annihilates them on price! There are three main things that make it such a good buy: It is built well to protect your bike, it is smartly put together to protect your car and it is under $100. If you've been considering a tailgate pad or need a new one, grab the Dert tailgate pad, head to the trails and ride to the hills.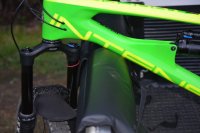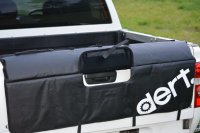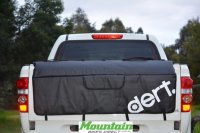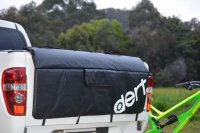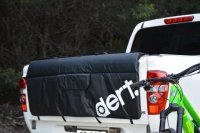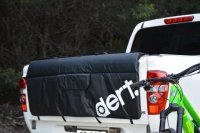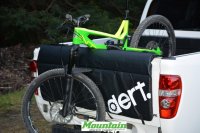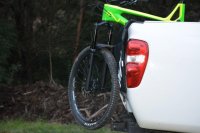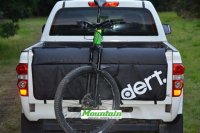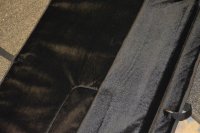 Last edited: