So beyond all my better judgement, I did buy more luna when it bottomed out so I could trade the swings to get my original loss back. Worked out well.
I've made my 200 back, as well as the additional 10 I put in to make back the 200. I am now holding g about 300k units of luna with zero loss. While this is happening..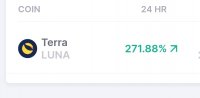 So anything that happens from here is pure gravy. Given it was a top 10 coin there is always the fantasy that it go up again. Even if it goes to $1 at this point it would be a laugh, given its high of over $100. I guess now I just wait for moon, right?