The subject says it all, I bought a 1x10 drivetrain with one of these as the chainring a while back and have decided to finally use it. The ring comes with it's own bolts in particular two smaller ones to allow it to work on the 104BCD but unfortunately the chainring bolts got lost in translation somewhere.
https://absoluteblack.cc/oval-104bcd-chainring.html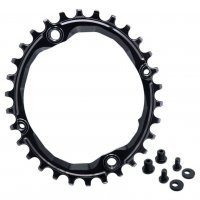 Is anyone using one of these rings and can give me a bit of info about the bolts?
I've tried Pushy's who've advised they are not a normal spare part but may be able to be special ordered which is not a good sign